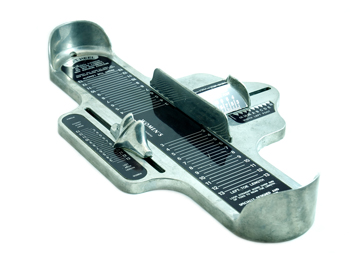 When it comes to foot comfort, wearing the right shoe size is crucial. Many people unknowingly wear the wrong size, which can lead to foot pain and various conditions. Determining your proper shoe size is essential for getting the best support and comfort for your feet, whether you are shopping for running shoes, athletic shoes, or everyday footwear. To measure your shoe size, you can place your bare foot on a piece of paper, trace its outline, mark the longest and widest points, and measure both length and width. You should add about half an inch to the length measurement to find your ideal shoe size. If you are in between sizes, going up a size is recommended for added comfort. Regularly measuring your feet is advisable as they can change over time. If you have further questions about how to find the right size shoes for your feet, it is suggested that you make an appointment with a podiatrist who can provide you with additional tips.
Getting the right shoe size is an important part of proper foot health. Seek the assistance of Jack A. Sasiene, DPM from Texas. Our doctor will provide the care you need to keep you pain-free and on your feet.
Getting the Right Shoe Size
There are many people who wear shoes that are the incorrect size, negatively affecting their feet and posture. Selecting the right shoes is not a difficult process, so long as you keep several things in mind when it comes to choosing the right pair.
When visiting the shoe store, use the tools available to measure your foot.
Be sure there is 'wiggle room'. There should be about an inch between your toes and the tip of your shoes.
Do not always assume you are the same size, as manufacturers run differently.
Purchase shoes later in the day, as your feet swell as the day progresses.
If a shoe is not comfortable, it is not suitable. Most shoes can't be 'broken in', and comfort should be the ultimate goal when it comes to choosing the right pair of shoes
As our feet hold our body weight and keep us moving, it is important to treat them right. Picking the right pair of shoes can provide your feet comfort and mobility without pain.
If you have any questions, please feel free to contact our offices located in Texas City and Lake Jackson, TX . We offer the newest diagnostic and treatment technologies for all your foot care needs.
Read more about Getting the Right Shoe Size: To Keep Your Feet Happy