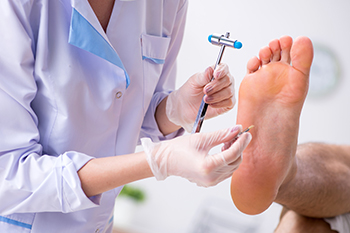 When it comes to foot surgery, an office-based surgical suite offers benefits for both patients and podiatrists. For patients, the convenience and comfort factor can play a significant role. Familiarity with the office environment, the staff, and the overall setting may help alleviate nervousness and promote a more relaxed experience. The cost of surgical procedures can be significantly reduced, and the avoidance of a hospital stay minimizes the risk of infection. Office-based surgical suites can benefit podiatrists, as well, by allowing them to save time so they can see more patients. Creating an office-based surgical suite starts with finding a suitable room, acquiring the necessary equipment, and training staff in surgical procedures, such as gowning, gloving, and instrument setup. While the process demands attention to detail, it's well within reach for doctors interested in creating a more patient-centered, cost-effective, and future-oriented approach to podiatric surgery. The transition to office-based surgery can help podiatrists ensure that patients receive top-notch care without the anxiety of high costs and hospital-related risks.        
If you are dealing with pain in your feet and ankles, you may want to seek help from a podiatrist. Feel free to contact Jack A. Sasiene, DPM from Texas. Our doctor can provide the care you need to keep you pain-free and on your feet.
What Is a Podiatrist?
A podiatrist is a doctor of podiatric medicine who diagnoses and treats conditions of the foot, ankle, and related structures of the leg. Your podiatrist may specialize in a certain field such as sports medicine, wound care, pediatrics, and diabetic care. Podiatrists have the ability to become board certified through training, clinical experience, and then taking an exam.
What Do Podiatrists Do?
On a daily basis, a podiatrist may perform the following activities:
Diagnose foot ailments such as ulcers, tumors, fractures, etc.
Use innovative methods to treat conditions
Use corrective orthotics, casts, and strappings to correct deformities
Correct walking patterns and balance
Provide individual consultations to patients
It is very important that you take care of your feet. It's easy to take having healthy feet for granted, however foot problems tend to be among the most common health conditions. Podiatrists can help diagnose and treat a variety of feet related conditions, so it is crucial that you visit one if you need assistance.
If you have any questions please feel free to contact our offices located in Texas City and Lake Jackson, TX . We offer the newest diagnostic and treatment technologies for all your foot and ankle needs.
Read more about What is a Podiatrist?