Geriatric Foot Care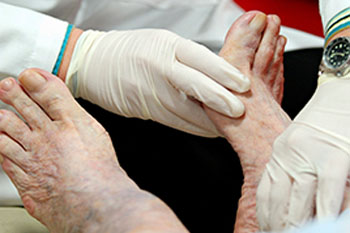 The feet support and carry your body weight throughout your entire lifetime. Because of this, it's no wonder that they tend to experience wear and tear as we age. With that being said, it's important we care for our feet on a daily basis; it's especially important, however, that we care for our feet into old age, when they are more prone to developing certain conditions. Some common foot complications that tend to affect elderly patients include bunions, changes in the overall foot structure, arthritis, fungal or ingrown toenails, and general foot pain or soreness.
As we age, our feet tend to grow in size. If you're not regularly changing your footwear to properly and comfortably fit the size of your feet, and in turn, are constricting your toes, it's likely you may develop a bunion or hammertoe. These conditions can be incredibly uncomfortable and may cause a great deal of pain if not properly treated by a podiatrist. Caring for our feet can become more difficult as we age. In order to help avoid incorrectly cutting the toenails, it's advised that you seek the care of a podiatrist who can trim your toes straight across, preventing the formation of an ingrown toenail. The older we get, the more our chances of having arthritis increases. Arthritis tends to be the cause of foot pain, as well as stiffness, and can even lead to the development of the foot conditions listed above. Patients have found relief from the discomfort caused by arthritis by wearing custom orthotics, as well as including light stretches in their daily routine.
For more information and tips on maintaining proper health for geriatric feet, we recommend you consult with a podiatrist for professional care and guidance.